Calgary Window Cleaning
We are Calgary's experts in window cleaning condominiums and commercial buildings at height.
Window Cleaning Is A Difficult Task
Not only is window cleaning challenging but also a very time-consuming process that needs to be completed when taking care of your property. Let Calgary High Rise Window Cleaners bring our advanced tools and specialized team to complete your project. We love our job and take pride in doing the very best window cleaning in Calgary. We stand behind our services; email us for a free quote.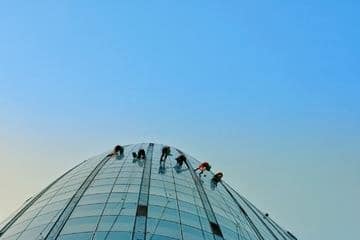 Window Cleaning Calgary
High Rise Window Cleaners is an Alberta based company and is the premier window cleaning company in Calgary. We offer competitive pricing with multiple contract options to ensure we find a way to fit your budget.  We focus on servicing any and all high rises, whether it be a commercial building or a condo.  We strive to provide excellent services at a fair price, while prioritizing safety above all. We are fully insured and hold First Aid certification, as well as carry WCB and COR certification.  Your windows provide you with natural light, shield you from the weather, and give you a view of the outside world. If your glass is allowed to collect dirt and debris, it heavily detracts from the beauty of your building, from both inside and out.  At High Rise Window Cleaners, we take on the task of your exterior window cleaning with utmost efficiency.
Calgary Rope Access
We access the seemingly inaccessible areas of your building using Rope Access. Our window cleaners are all certified Rope Access Technicians trained to the highest standard. Rope Access helps to quicken the process by drastically reducing set up and take down time, increasing the number of hours in the work day spent actually cleaning the glass, requiring fewer days to complete the project, saving you time and money. 
At height work has its own inherent dangers from winds to falls and dropped objects, however Rope Access minimizes these and other risks in various ways. Firstly, weather conditions are assessed. Secondly, a two rope system is used. This means there is a primary rope that a technician is harnessed onto, and a secondary rope with a backup device, should there be any reason that the primary rope fails (we are proud to say that the backup rope has never been necessary for us). Finally, all equipment including, water buckets, squeegees, cloths, personal items, etc. are all tethered and attached to the technician's harness, stopping any and all items from dropping to the ground from height.
Services
 Condo Window Cleaning 

 Commercial Window Cleaning

 Solar Panel Cleaning

 Wash Frames
Commercial Cleaning Ensures Your Office Leaves The Right Impression.
Ensure that your clients see only the best when they visit your business. Dirty glass can give the wrong impression, but it can be tough for you to maintain the glass on commercial buildings on your own. Trust our highly trained experts to take care of every detail and give your windows the attention they deserve. We do this while maintaining the highest safest standards to put your mind at ease.
Emergency Procedures Policy